Sure, Oakland has great museums and city parks. But when you are in the mood for a different take on The Town, one that spotlights Oakland in a new way, join one of these alternative options.
Much of the waterfront of Oakland lies on an estuary. Explore the wildlife under the full moon at the fringe of a major city on a Moonlight Kayak tour, launching from Jack London Square.
Tofu experts lead visitors deep into Hodo Soys beanery in West Oakland. After watching yuba and tofu process, sample it. Hodo Soy is a local hero and is carried in Whole Foods. Hardcore carnivores are always welcome.
During the Localite Retro Cocktail Tour, drink and learn about Uptown Oaklands fantastic architectural gems. Erase your newfound knowledge with a few libations.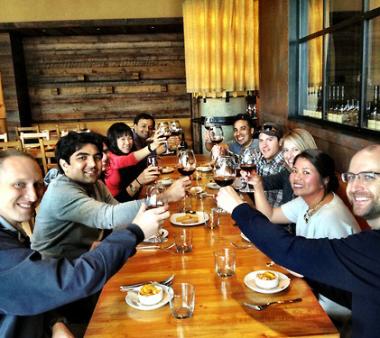 Delicacies from Oaklands diverse neighborhoods arent hard to come by, but to really find out the best of the best, sign up with Edible Excursions or Savor Oakland for a cultural foodie walking tour, all wrapped into a few delicious hours.
David Hilliard, a founding member of the Black Panther Party, gives four-hour tours of the historical landmarks of this movement. Its $20 per person with a 15-person minimum.
Heres a new one: a multi-course dinner on an airplane, specifically aboard the Solent Flying Boat, a circa 1940s aircraft that flew the Coral Route (from Southampton to Johannesburg). The onboard menu is replicated for this two-hour experience at Oakland Aviation Museum.
Cycling and wine isnt just for Napa. With the East Bay Winery Bike Tour, bike to three to four of the dozen or so wineries in the East Bay. You push off at Jack London Square for a full-day adventure that includes a picnic lunch.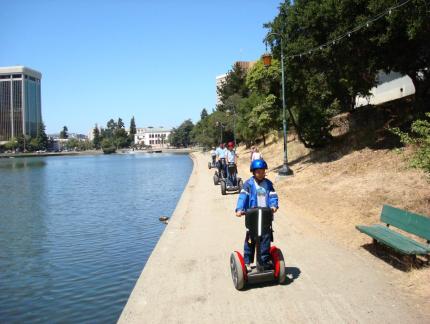 Yes, you could walk. But theres so many more interesting options. Cover as much ground as you can zipping the streets around Uptown/Downtown, Lake Merritt and Jack London on Segway. Italian owners brought over authentic Venetian gondolas that ply Lake Merritt on private excursions. Llamas will hike the Oakland Hills with you at Redwood Regional.
Okay, we liedthats 11 ways to tour Oakland. Youll thank us later.
Header image via Gondola Servizio